To view a single day of plans, instead of the default weekly view, click on the day title.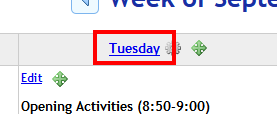 You can then view the plans for just that day.  In this view, you can edit and quick edit just as you would on the weekly view.  You can also click the printer icon to print just that day.






You can use the arrow icons to navigate to different days.






When you are ready to return to the weekly view, click the calender icon.